Grandstream Releases Two New Products

A well-known name in the VoIP industry, Grandstream Networks has been on it's "A" game manufacturing award-winning IP Phones, IP PBX Appliances, and Surveillance Products since 2002. After recently unveiling their very first conference phone, the GAC2500, which utilizes the power of Android 4.4 and also offers a complete conference solution for any size business, Grandstream is at it again. This time around-following its trend of innovation, high quality and reliability- Grandstream hits the market with two new products releasing in the same week.
Grandstream released theGVC3202 Video Conferencing solution, a noteworthy business-class camera that not only supports Grandstream's vigorous IPVideoTalk Pro cloud platform, but has the ability to power multiple popular video conferencing protocols and platforms right out of the box. Based on Android 4.4, the GVC3202 provides full access to all video conferencing apps in the Google Play Store-such as Skype®, Skype for Business®, Google Hangouts™ and more.
WHAT ELSE DOES THE GVC3202 OFFER?
Flaunting a clean, modern design, the GVC 3202 also sports an inventive embedded Multi-Point Control Unit (MCU) that supports up to 3-way conferencing with local mixing between SIP and other protocols. Other high performance features include:
Built-in Bluetooth for use with Bluetooth speakers/ microphones, keyboards, data exchange, etc
Support for 2 screens thanks to 2 HDMI outputs
Local & far-end controllable PTZ camera with wide-angle lens
Can bridge calls from Android apps into SIP conference
Ability to share a presentation with conference attendees or review a document
Can remind attendees 10 minutes before start-time and automatically call all participants
Ability to easily record all video conferences to document meetings
Fast connections speeds to maximize video quality
Video resolutions up to 1080p
Powerful 9x optical zoom
Interoperable with any 3rd party platform and with full, transcending features and abilities, the GVC3202 is a great video conferencing solution for any small business.
THERE IS MORE FROM GRANDSTREAM
If the GVC 3202 Video Conferencing Solution is not enough new technology for you, Grandstream has released the GXP2170 IP Phone for High-Volume Users, a robust enterprise-grade IP phone meant to fit the needs of businesses that are dependent on phone calls. The Grandstream GXP2170 allows for up to 12 line keys and six SIP accounts with programmable context-sensitive soft keys, and supports the fastest possible connection speeds with dual Gigabit network ports, making it a reliable IP Phone solution to help pay the bills-many phone calls at a time.
WHAT'S THE GXP2170 ALL ABOUT?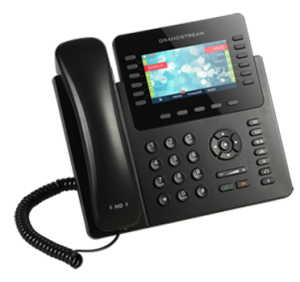 Boasting a 4.3 inch color display LCD and full HD audio, the GXP2170 has 48 digital, on-screen speed dial keys, and Power over the Ethernet (PoE), allowing for efficiency and productivity. This top-notch, executive-level IP Phone also includes the following functionalities:
Built-in Bluetooth for syncing headsets and mobile devices for contact books, calendars & call transferring Full duplex-speakerphone
Supports EHS compatible Plantronics headsets
Automated provisioning options include TR-069 and XML config files
Built-in USB port for importing and exporting data
TLS and SRTP security encryption technology to protect calls and accounts
Use with Grandstream's UCM6100 series IP PBX appliance for Zero-Config provisioning, 1-touch call recording & more
The 48 digitally programmable & customizable BLF/fast-dial keys can be optimized when used with up to four cascaded GXP2200EXT Modules
WHERE CAN I FIND THE GVC3202 AND THE GXP2170?
VoIP Supply is excited to offer both of these Grandstream Networks products as reliable and innovative solutions for your video conferencing and/or VoIP Phone needs. We would be thrilled if you shared with us what you think about these products as well! Go ahead and leave a comment or ask us a question in the below comment area. You can also contact us directly at 1-800-398-8647 or at [email protected] and we would be happy to chat with you about both of these VoIP solutions.