How to Use Yealink's SIP-T49G Bluetooth Phone with a Mobile Phone
Many of Yealink's business IP phones have built-in Bluetooth support that allows you to connect your mobile phone to the Yealink phone unit wirelessly.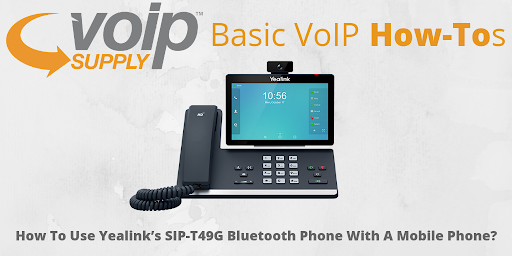 The advantage is that you can switch the desktop phone to your mobile phone anytime you want, even during a phone call without any interruptions. (The person on the other end won't even notice it!) Let's take Yealink's SIP-T49G business phone as our example and see how this process works:
Switching back and forth between the T49G business phone and your mobile phone is easy. Let's take a quick look at the simple process:
Turn on Bluetooth from your mobile phone setting

Connect your mobile phone to SIP-T49G via Bluetooth

When there is an incoming call, both your cell phone and the T49G will ring

Answer the call on either the SIP-T49G desktop phone or your mobile phone

On your mobile phone, you can switch this call to SIP-T49G without any interruptions

When your conversion is finished, simply hang up the call on your cell phone or the T49G and the call will hang up on both ends
This Bluetooth connection process works for the T49G, SIP-T58V, SIP-T58A, SIP-T56A, and SIP-T49G. The best part is that the SIP-T49G IP phone can actually synchronize with your mobile phone contacts and call the contacts on behalf of your mobile phone. This can save busy workers like you lots of hassle!
Did you switch your call successfully from the SIP-T49G to your mobile phone? How did you take advantage of this feature? Share with us!