IP Video Management Features – Recording and Viewing
Managing the video captured from your IP cameras is an important function of your surveillance system.  I've talked about the hardware platform and software platform options that are available.  Once you've made the right hardware and software choices for your surveillance system what features and functions can you expect from the video management system?
This post is about recording and viewing features which probably sounds like the simplest and most obvious functions but, there are interesting options available that you may not have considered.
IP Video Recording
Recording video is a major function of a video management system.  The ways in which you can set up the recording function and the advanced searching methods that can be used are the valuable parts of this common feature.
Surveillance video recordings can be:
Continuous
Triggered (Motion or Alarm based)
Scheduled
Continuous recording, as the name implies, is non-stop recording and therefore takes up more disk space than triggered recording.  Motion or alarm-triggered recording saves storage space because recording only occurs when video motion detection (VMD) or an external device, hooked up to a camera's input port, is activated.
Scheduled recording is activated by the times and days that you specify.  It can also be set to include a combination of continuous and motion/alarm-triggered recordings.
Once you choose how you're going to record you can then specify the quality of the recordings by:
Format:  M-JPEG, MPEG-4, H.264
Resolution
Image Compression Level
Audio Recording
IP camera audio recording is not widely used yet but, should you choose to incorporate this available option you probably want to have the audio syncronized with the video.  Therefore time-stamped audio and video packets is required.
The recommended video compression for proper time-stamping is MPEG-4 or H.264 because these video streams are sent using RTP – Real Time Transport Protocol.
Storage
The majority of IP video management software platforms use a Windows based file system for storage.  You should be able to use any system drive or network attached drive to store your IP video.  You will also be able to store video on one drive and archive video on a different drive of your choosing.
Searching and Exporting Archived Video
Being able to search through your recorded video is a great time saver and an important tool for your surveillance needs.  A few search options are available such as:
Date and Time:  Enter specific dates and times and video will be replayed from one or more cameras.
Motion-Based Search:  Define an area (ex. entranceway) where you want motion to be detected. Advanced searching can then replay video that exhibits activity.
Alarm or Event-Triggered Search:  Any video with the alarm or event that you define will be played back.
After you've found the video you're looking for you can then export the files in either standard formats (ex. AVI) or leave the video in the proprietary format which will ensure security, integrity, and proper encryption.
Playback
Most IP camera software allows many users to view many cameras at the same time while also allowing for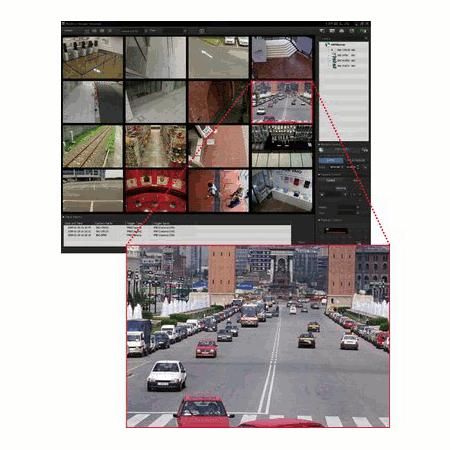 simultaneous recording.
The software allows a number of cameras, split view, to be replayed at the same time to give you a better overview of an incident.
Camera Mapping
Video management software allows you to import a photo, map, or drawing of your facility.  You can then drag and drop camera icons onto that map that highlights where your cameras are located.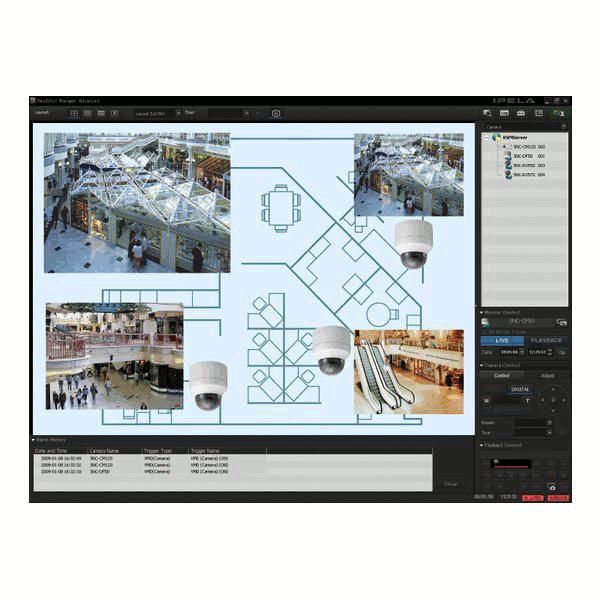 This makes it easier to locate the cameras in the area you need to view.  Click on the camera and live video will be displayed.  And if an alarm occurs from a particular camera, that icon will change color to alert you.