Is Your Phone Monitoring System Ready for the Workforce Revolution?
Our workforce has been going through a massive transition in where you work. According to GlobalWorkPlaceAnalytics.com, regular work-at-home, among the non-self-employed population, has grown by 103% since 2005.
Soon enough, the regular office life will be in the past and your workplace might just be anywhere you have an internet connection. The question is – is your phone monitoring system ready for this workforce revolution?
Traditional Passive Issue Reporting Doesn't Work
Traditionally, when you realize your phone doesn't work, you report the issue to your technical support team and wait until it comes back on or simply just find other alternative resources to get your job done. This passive reporting path has gradually come to an end for two reasons:
Slow Down Productivity
Passive reporting is time consuming which usually leads to some unavoidable downtime as your IT staff just starts detecting and dealing with the problem when someone reports them. The phone system is especially difficult to track and monitor with the increased number of remote workers. It not only interrupts the normal workflow, but also reduces productivity.
Open UP Potential Vulnerabilities
Without real time monitoring system, you may put your corporate security at risk. The longer the processing time of dealing with a malicious attack, the deeper an intruder can dig into your system. Furthermore, with more employees working out of your eyesight, you also bear the risk of unethical behavior.
Advanced Business Call Analytics Has You all Covered
To gear up for the new era of workforce, we've come to see the need of a proactive business phone monitoring system.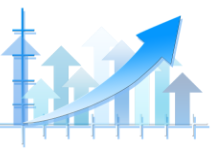 Advanced Analytics, one of the popular VoIP service features, monitors all types of activities and have the data ready for view even before your employees report to you. You are able to adjust quickly when undesired event happens.
The Advanced Analytics also enables  you to view data in real time and access individual call recordings, preventing unethical activities within your organization.
VoIP service has a lot of potential waiting for you to explore. If you are interested in learning more about its capability or have any questions/thoughts to share with us, please utilize the comment box below or contact us at 1-800-398-VoIP! We'd be thrilled to hear from you!