Product was successfully added to your shopping cart.
Product was successfully added to your shopping cart.
WhiteLabel Communications Fax Solutions
White Label Communications (WLC) provides Private Label Dial Tone to it's partners through a global hosted PBX and SIP Trunk solution. Through the WLC platform Interconnects and Managed Service Providers can become their own phone company.
The reliance on email and faxing for business to business correspondence has driven explosive growth in the daily number of documents companies are handling. Being competitive means getting time-sensitive, mission-critical information into the hands of customers, suppliers, partners and employees quickly and easily. Integration is an essential requirement in virtually every IT strategy. Many companies today are leveraging their existing investments in email applications like Microsoft Outlook as combining email/fax functionality offers the ability to streamline business processes while reducing costs.
Finally, there is a reliable way to connect fax machines to VoIP. The new Fax ATA uses secure HTTPS to reliably send faxes in real-time over any data connection (Internet, Cellular, and Satellite) while adding new VoIP features to the fax machine like automatic fax archiving and email notifications.
Why WhiteLabel HTTP Fax Connections are Better than faxing over Traditional SIP:
Delivering faxes over traditional SIP Trunks is unreliable, unsecure, and bandwidth intensive.
HTTPS Fax easily navigates through firewalls and NATs
HTTPS Fax have no T.38 dependency
HTTPS Fax works over any internet or data connection
WhiteLabel Resources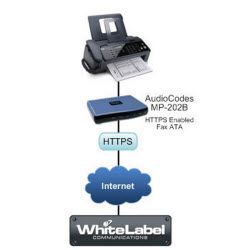 There are no products matching the selection.