Switchvox Pricing and Bundling to Change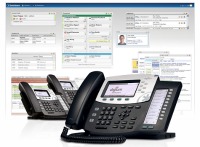 Starting September 1st, Digium will be changing the way Switchvox is sold.
In the past when you have been quoted for a new Switchvox UC system, your quote included a Switchvox appliance, complete UC package, and licensing for 10 users at the Silver level.
Beginning September 1st, the appliance and the UC package will no longer be bundled with 10 users and phone feature packs.
Why the Change?
A 1-year Silver user subscription entitles you to software upgrades for one year, email support, and a response target of 24 hours from the time you email M-F.
Many of our Switchvox customers prefer Gold or Platinum user subscriptions, which add phone support and a 4 hour response time. When the silver users are bundled with the Switchvox appliance, upgrading to Gold or Platinum at the time of purchase becomes cumbersome.
With the new standalone pricing, you are free to purchase Silver, Gold, or Platinum users with your UC system easily with less part numbers and less registration codes.
What Else is Changing?
In addition to the un-bundling of the Switchvox user subscriptions, the Switchvox appliance will take a slight price increase.
This is as a result of critical component shortages and cost increases still in effect from last year's flooding in Thailand. For the past year, Digium has been absorbing this cost increase but it cannot maintain any longer as the what was thought to be "short lived" shortages are continuing.
What Does this Mean To You?
If you are looking at deploying the UC System with the best value per Frost and Sullivan? Act fast! Pricing will be increasing on September 1st!New Switchvox UC Software & Appliance Pricing effective September 1st 2012.
Switchvox UC Appliance Pricing Effective September 1 2012
Standalone appliance and software – no user licenses: