VoIP Supply April Reseller Webinar Recap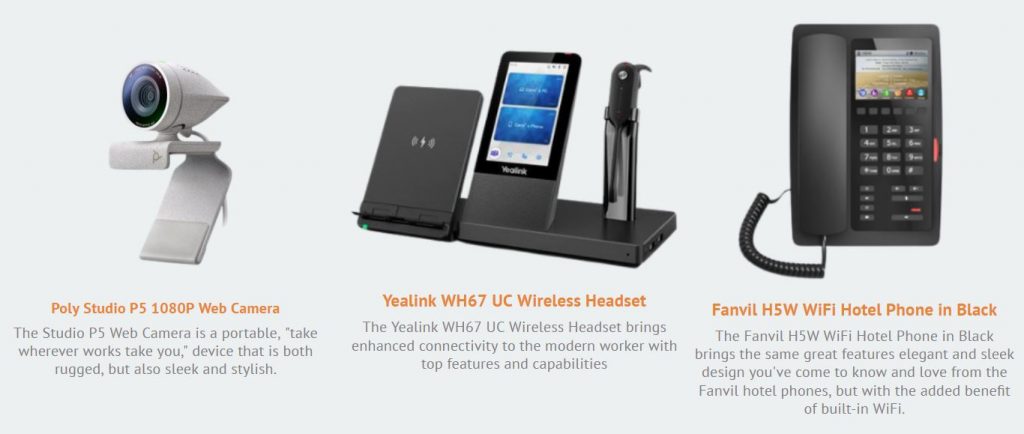 April is always a great time of the year for our industry because many manufacturers release some of their new products! For the month of April our Channel Manager Don Stefanie put together a great presentation highlighting some of those new products. He also spent time covering some trends we are seeing out there as well as some new promotions!
Download the presentation slides here!
New VoIP Products

Poly Studio P5 1080P Web Camera: This camera is awesome and one of the best things about it is that it's ruggedized! 
Yealink WH67 UC Wireless Headset: We love this product, it helps you clear off your desk space and allows you to get up and move! No one wants to be tethered to their desk anymore!
Fanvil H5W WiFi Hotel Phone in Black: This is a new release from Fanvil! This Phone has built-in WiFi and the screen can be customized with your logo and other great features!

Microsoft Teams Compatible and Certified Products: If you are working with a customer or you are a customer that needs assistance with figuring out what VoIP devices are Microsoft Teams compatible or certified, then either give us a call or check out our website to help navigate through the products!
It's IP Paging Season: Now is the time to start getting a plan together to replace those legacy paging solutions in your warehouse, school or business. IP paging solutions integrate really well with new or existing VoIP systems, but be sure you check with one of our experts to ensure the products you are purchasing are compatible. VoIP Supply works with the most popular paging brands such as Cyberdata, Advanced Network Devices, ALGO and Valcom. 
Snom Announces Standardized 3CX Template for North American Users: Did you hear the amazing news that the new Snom D785, D735 and D717 phone templates are now available on the 3CX platform? Why is this important? Because it eliminates the need for customization! Don't forget to also check out Snom's Trade-in Rebate Program, it's great and will help you win a lot of deals!
Are you looking to add more revenue to your pocket? I mean who isn't right? If you are struggling to figure out how to do that, we have a solution, add VoIP Service to your portfolio! VoIP Supply is a master agent for some of the top VoIP Service providers and we can help you not only sell one but many providers. Don't get overwhelmed, we are here to help and grow your monthly recurring revenue!