So we had a contest last week….the gist of which was for our readers to submit their ideas concerning novel uses for Asterisk.
I was doing some research online today and I came across BootyDialer.com, which is certainly one of the most creative applications of Asterisk I have come across.
The application itself is hard to describe, so I grabbed the text below from the blog of one one the creative geniuses behind BootyDialer, Adam Simon. You can also click on the BootyDialer flowchart thumbnail below the quote, for a visual interpretation of the app.
For our Redial midterm, Corrine and Marc and I are creating Booty Dialer, an automated booty call system. The notion is that you sign up on the website, and enter the phone numbers of your potential booty calls. When you're out and about and decide you want some booty, you call in, and it puts you on hold while it calls your contacts, whom it asks if they would like to talk to you. If they do, it connects the calls. If they don't, it goes on to the next one, saving you the embarrassment of being rejected by returning the same response for a "no" as a person who didn't answer.

We've got a loooong list of features we'd like to implement (including booty blocking, booty networking, proximity integration for finding nearby booty, and booty recommendations), but for this week's midterm we're just aiming to have basic contact list management and call bridging working properly…which means more adventures in AGI!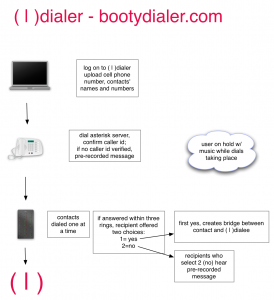 Adam is apparently an alumnus of NYU's "Interactive Telecommunications Program". Where was this program when I shrugged apathetically in the office of my high school guidance counselor when he suggested I pursue a major in "Communications" at a regional college? Oh well, it turned out okay….
My BootyDialing days are behind me….but that may not be the case for many of our readers. BootyDialer.com is free of charge, and appears to still be up and running.