Product was successfully added to your shopping cart.
Product was successfully added to your shopping cart.
Digium Switchvox for VMware
Virtualize your Switchvox Phone System
As small and mid-sized businesses try to leverage their small budgets, it has become more common for businesses to turn to virtualization in an effort to reduce operating costs. Companies are seeking solutions that are optimized for virtualization because it not only saves them money on the actual infrastructure of an on-premise hardware-focused solution, but it also cuts down their IT personnel expense and overall time and resources that can, in turn, be spent on another crucial part of the business.
As today's phone systems have evolved to be sophisticated software-based solutions that do not depend on hardware, companies have the advantage of turning to virtualized phone systems that are simple to use and optimized for virtualization. Small and mid-sized businesses are perfect candidates for Switchvox for VMware, regardless of whether the business is already using virtualized solutions or not. Switchvox for VMware is a great starting point for any business to begin its virtualization journey,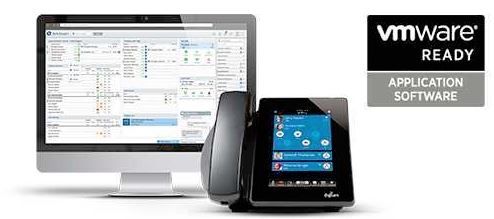 Is your business ready to virtualize its phone system? Download the Switchvox Solutions Guide to find out. Click here.
The Benefits of Virtualization
With virtualization, companies benefit from improved uptime and disaster recovery. Features such as live migration, high availability, and storage migration allow for applications to keep running even in the event of hardware failure. This can prove critical for companies that cannot afford downtime in their communications platforms. Moreover, virtualization completely eliminates the need to purchase expensive redundant servers and additional licenses by creating an environment where multiple servers act as one allowing for applications to remain online automatically and seamlessly during hardware outages.
More benefits of virtualizing with Switchvox VMware:
Scalability - With a virtualized phone system the control of system resources is in the hands of the business and away from the PBX vendor. Companies can determine which resources to allocate to the phone system (CPU, RAM, storage) and can change these on the fly as their business needs change
Cost Savings - Virtualization consolidates multiple applications into a fewer number of servers, each running more efficiently. Using fewer physical servers, as well as less specific and often times limited vendor-specific appliances, allows businesses to maximize physical resource utilization and minimize capital spending.
Power Savings and Going Green - Virtualization combines as many assets as possible, reducing the carbon footprint of your server or data room. The consolidation of a Unified Communications solution onto shared hardware helps companies work towards "Going Green".
Simplicity and Flexibility for IT - Virtualized systems can be deployed faster and maintained more easily freeing up IT resources and reducing technology management issues.
Learn More: What are the Top 5 Reasons to Virtualize your Phone System?
Still have questions about Virtualization? Watch the video below to get answers to the most frequently asked questions.
Virtualizing Your VoIP Phone System with Switchvox