Sangoma Instant Rebates up to $200 Until December 31, 2014
From now until December 31st, 2014, get up to $200 off in instant rebates on select Sangoma Vega Gateways and Session Border Controllers.
There are no forms to fill out and you don't have to wait for a check in the mail.
Just add your favorite Vega appliance from the list below to your shopping cart and enjoy your instant rebate.
Sangoma Instant Rebates
Vega 50 Gateways = $25 Rebate
Vega 100 Gateways = $50 Rebate
Vega 200 Gateways = $75 Rebate
Vega 400 Gateways = $100 Rebate
Vega 5000 Gateways = $50 Rebate
Vega Enterprise SBCs = $50 to $150 Rebate
NetBorder Session Controller = $200 Rebate
Sangoma Links
Shop by Product Type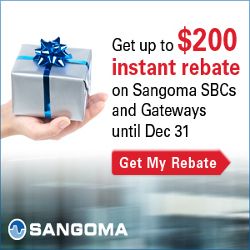 SKU # 02-102561

Regular Price: $399.50

Special Price: $374.50

SKU # 02-102564

Regular Price: $352.50

Special Price: $327.50

SKU # 02-116662

Regular Price: $1,157.85

Special Price: $1,107.85