Switchvox User Training
The Switchvox User Training is an online, self paced 2 hour course which covers the basics of Switchvox, the Switchvox user web suite, the Switchboard, and Digium phones. You only need one user training purchase to get a login for every phone user in your company!
Switchvox User Training Overview
Switchvox User Training is an online, self-paced, video course which features a series of 15 short, 5-15 minute tutorial videos. The the full library contains 2 hours of content. This course is modular and divided by topics, so students can view all of the videos or simply brush up on the topics that are relevant to them.
By the end of the training users will be comfortable with basic phone system functionality, such as - checking voicemail and transferring calls, mobile phone connectivity as well as advanced productivity enhancing UC features for converging phones, setting up unified messaging and utlizing presence. These videos are easy to understand and will benefit non-technical and technical users alike.
Switchvox User Training is purchased on a per-company basis. One license provides a training log-in for every user in your company.
The Switchvox User Training provides an optional, included certification exam upon the completion of the video content training. The exam is optional, however it provides an excellent way for managers to certify that employees are familiar with their new phone system.
Switchvox User Training Topics
Introduction
Web Suite Basics
Switchboard Basics
Personalizing Your Account
Checking Your Voicemail Greetings
Checking Voicemail
Advanced Voicemail Settings
Custom Call Routing
Managing Phonebooks
Converging Phones
Conferencing
Call Reporting
Customizing the Switchboard
Additional Panels
Digium Phones
Switchvox User Required Settings
Browser Support for Internet Explorer 7+, Chrome, Firefox, Safari
Broswer Settings:
- Pop-up Blocker: Off
- JavaScript Enabled
- Cookies Enabled
- Flash Version 9+
Recommended Settings:
- Screen Size: 1024x768
- Bandwidth: 56kbps for standard presentations and 100kbps for presentations that include video slides, headphones or speakers
We're sorry, there are no downloads available at this time.
Manufacturer

Switchvox

Model

806-00019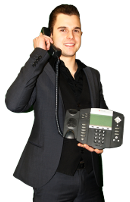 Brian Hyrek
Direct: 866-583-0815
Blog
For advice, reviews and industry insight... be sure to follow us online.